Saul Canelo Alvarez and Gennady GGG Golovkin are scheduled in Vegas for all the belts in Vegas this Saturday, September 15th Mexican Independence Day weekend, but like so much of the hooey in boxing these days, we cannot know if the scheduled fight can actually take place. Their previous Cinco de Mayo weekend rematch was quashed by bogus drug accusations that resulted in Canelo's backdated 6 month suspension by the Vegas commish.
https://roberto00.wordpress.com/2018/08/21/canelo-vs-golovkin-againlet-the-poisoning-begin/
So yeah, hungover boxing suits, upon reflection in the dawn's early glare after their Bacchanalian at the strip club, checked their empty pockets to find they had blown their paychecks. Now I see them in a desperate scramble of "treading on eggs" in the selection of officials for the rematch of the previously aborted rematch. The first Canelo/Golovkin fight was a good one  unfortunately marred by an outrageous 118-110 score by Adalaide Byrd, one of a host of horridly incompetent and/or corrupt judges and sundry officials across the global boxing world. Please also note that the 2020 Olympic committee banned "boxing" from those games after years of consecutive participation dating back to the first modern Olympic games, a shot across the bow of the ship of state of boxing that is no longer regarded as a fairly officiated sport in Amas or pros.
Pro Boxing has no such far ranging committee oversight save for the American public who has been fleeing the sport for over a decade now such that it has become a fringe sport. There are less than a handful big names that "might" register with the public, and none are native born Americans. Recently some two bit you tube punks who couldn't fight their way out of a wet paper bag staged a faux feud leading to a "boxing match" that garnered a reported 100 milion PPV buys if the high end numbers hype are to be believed. They made millions,  more than 99.99% of today's boxers command for a match, so there it is as today's state of boxing goes. They've scheduled their sissyboy rematch, and who knows, maybe a new fad, a two bit punk boxing league and their aspiring wannabes.
For this misbegotten, reinvented 3.0 rematch after the grotesque failure of 2.0, the Vegas Commish will only be using one Nevada official, the long time and now elderly, yet always guaranteed to toe the Vegas commish line, judge Dave Moretti. Moretti also worked GGG-Canelo I, scoring it 115-113 for Golovkin, a reasonable score to be sure in a fight most thought Golovkin won, but certainly not all including this observer who scores "even" rounds that are not allowed in boxing to understand where the endless controversies are. Giving Golovkin all my "even" rounds gave Canelo a 1 point win on my card, not so far apart from 2 of the 3 official cards. The official fight result was a Split Draw with 114-114 being the "splitter" between the previously mentioned 118-110 score for Canelo and 115-113 for Golovkin.
Point in fact: Adding up those "official" scores for each fighter yields 345 points for Canelo vs 339 for Golovkin, an obvious advantage for Canelo if used as a tiebreaker in the current outdated 10 point must system of scoring that boxing uses, but of course that kind of advantage weakens the control of the suits determination of the results, hence the "draw" of the 10 point swing between 118-110 for Canelo and 115-113 for Golovkin, all strategically penned for more lucre. Could you imagine the outroar if the NFL/MLB/NBA kept 3 such disparate scores for every game?
Net result is that such boxing monkeyshines expose boxing's many fault lines to erupt a flaming, vocal set of bipolar antisocial media segment of fans only caring to see the loser of any big fight being banned from the sport, or at least restricted to the small halls away their volcanic awareness so as not to defile their winner with his lowly loser presence.
They "wuz robbed" in classic boxing vernacular!
The other two judges are Steve Weisfeld  from New Jersey, and Glenn Feldman from Connecticut. None of those jurisdictions have any more credibility than Vegas, but at least Vegas offloads some of the potential blame in case of further controversy, but again, the fighters still have to toe the scratch line and fight, something that has become more and more problematic in boxing today after cancelled big fight headliners.
The referee will be Benjy Esteves Jr, also from New Jersey after Kenny Bayless wisely developed "personal problems" in advance of this "hot patootie" assignment as the Vegas premium choice, and then Tony Weeks got axed by long time Golovkin trainer, Abel Sanchez as the 2nd choice. Usually opposing teams are thrilled to have a big name officiate such a high profile match as are the chosen ref, but not in Vegas this go round.
The fighters are making the usual noises about knocking each other out, but the one who carries the biggest grudge is Canelo who has already lost out on a big payday with subsequent suspension as his reputation got dragged through the antisocial media cesspool, and his sin? Why he made beef, a longtime staple of fighters in training a part of his, specifically Mexican beef.
Sacre Bleu Mon Dieu! Now, according to Canelo, he's has to train on fish and chicken instead of beef…the only available choice left in the modern nanogram lite in the loafers world of boxing folks!
Ironically, though the long delay is the longest period of inactivity of Canelo's very busy career, it favors a refreshed and vengeful Canelo. He only just turned 28 and is at the cusp of his peak athletic years, whereas Golovkin is 36 and now aging in dog years for boxers. Oh, to be sure, Golovkin still has plenty enough left to beat Canelo, but then all Canelo has to do is make his aggressive showy flurries a more regular occurrence and he wins…well, maybe only sorta.
Because of the corrupt way boxing scores fights, just about every other weekend brings new outrage by the few fans boxing has left, and even if I scored it by one point for Canelo, it was too close for the current ham handed, low brow 10 point must scoring system in place. I've written extensively about their vestigial padded 10 point must system that ends up like some kind of weird transcribbled basketball score and their refusal to score even rounds where most of the controversies arise. Another negligence is too often being too stupid to add up the points correctly resulting in changed scores, sorta like if football used movable goal posts benefiting the home team. No other pro sport has such a sloppy, incomprehensible system as boxing and I fear it's only gonna get worse in this epic drought of integrity before it gets better, so we'll see soon enough…err…maybe, sorta!
Golovkin was looking tubby at the scheduled pre fight weighin several weeks ago where both were well within the maximum weight allowed. I've never seen Canelo out of shape even though his walking around street weight is probably in the 180s, not that far removed from his fight night weight. Golovkin pulled in a handsome purse last time and now lives a pretty good life between them proverbial "silk sheets" that Marvin Hagler used to talk of, hence the tubbiness. He and his manager Tom Loeffler now have enough sense of royal entitlement to have lobbied Vegas to have have Canelo suspended for perfectly legal nanogram ghost traces of Clenbuterol found in the Mexican food chain, and now return to the scene of their crime begging for more?
If Canelo was really a drug cheat, then why are they fighting him? And if they were really worried about drug cheating, why did they signup for BALCO Vic VADA "clean boxing" program that makes them eligible to access his BALCO vitamins? Do they even realize that by supporting the architects of an extortion racquet that forces Canelo to join the same program with access to the same BALCO vitamins, that the playing field is actually level this go round?
Seems to my predatory eyes like Team Golovkin may be the ones in a crisis of confidence that they could even win such a tough fight that most fighters shy away from in these padded record days. Still plenty of time to pull the plug on this doohickey as feets gets colder.
But wait, wait, "A hell-broth boil and bubble, Double, double toil and trouble, Fire burn and caldron bubble" in the Golden Boy paradise that has been instrumental in Canelo's development, accolades, and riches. Oscar De La Hoya tells us he may become our new Hail to the Chief president in the 2020 election!
http://www.espn.com/boxing/story/_/id/24649705/oscar-de-la-hoya-says-consider-run-president-2020
The undercards are also telling of the current state of boxing in that a top 10 American cannot be found, but thankfully we have plenty enough top 10 foreigners boxing. We have French Canadian David Lemieux going against Gary O'Sullivan, an Irishman from Cork in a slugging donnybrook, then a fresh Mexican slugger junior middle, Jaime Munguia vs another Canadian, Brandon Cook, and finally recently deposed Ring P4P # 1, Roman Gonzalez from Nicarauga fights Mexican Moises Fuentes in a flyweight spat.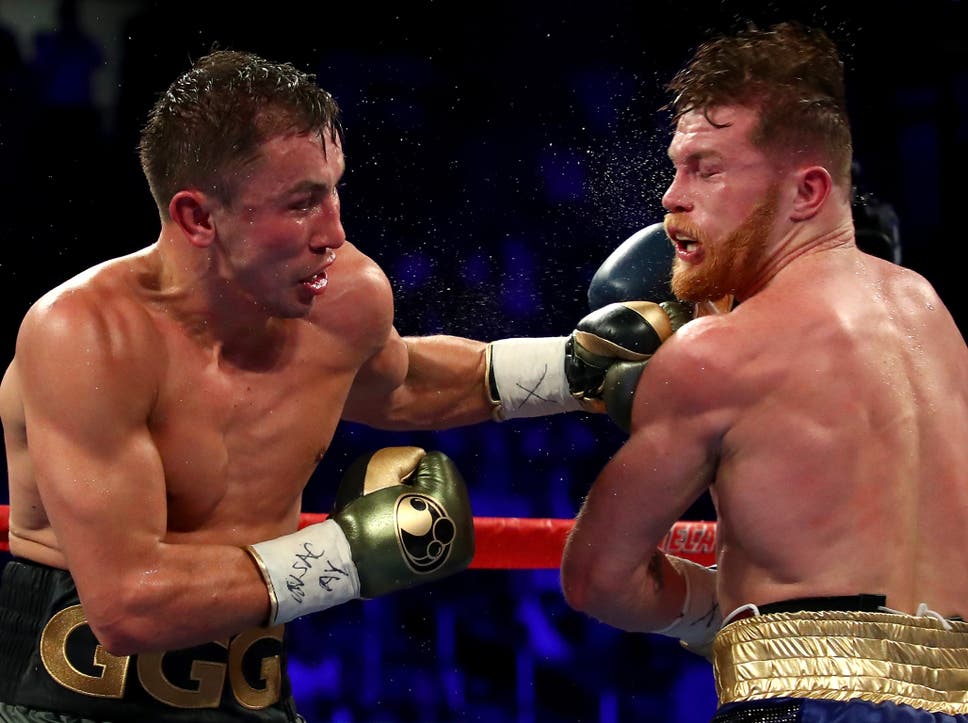 Picked Canelo in my predictor league again, but in the last fight he could've been much more offensively active to edge out the fight, and conversely Golovkin could've been more aggressive, but both fought a good fight showing skillsets not always appreciated by the unwashed public. A dash of more heart displayed please coupled with good officiating and we could be looking at a classic trilogy instead of canceled fights and soiled reputations, so let's go!