A young Brooklyn boy, Teofimo Lopez, 13-0, 11 KO, takes on Japanese Interloper, Masayoshi Nakatani, 18-0, 12 KO @MGM National Harbor, Oxon Hill, Maryland, USA this Friday, July 19th in what looks on paper to be a highly flammable barn burner.
I haven't seen much of Teo yet, but what I did see is a highly talented fighter only 21 years of age with ferocious punching power and mean streak in the ring where it counts the most on the record books and future purses. I've never seen the 30 year old Masayoshi fight, but looking at his record and knowing the extensive rigorous training he received in the Japanese school of boxing as an amateur, and knowing the Hell bent for leather style the typical Japanese fighter uses, hoooo, Daddy, this the kind of bout boxing deserves in the current spare climate that contenders generally employ to avoid each other.
Here's Teo with 140 champ, Regis Prograis, a division he will likely move to this or next year.
In an oddly interesting ratings snafu, Ring ranks Teo at 5th while Masayoushi is unranked, yet on Boxrec, Masayoshi is ranked 8th and Teo at 12th. I suspect that since he's never been out of Japan before, he simply remained off the radar of the US centric Ring panel. Hope he's hungry and makes a good showing so he'll want to return. Here he is in the prefight presser with Hurricane Futa who is the shorter fighter to give you the idea of the scale of height and reach he has over Lopez for their fight.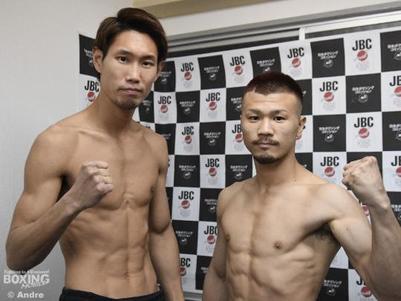 Another factor in the fight is rounds accumulated, Teo literally just above a novice level at 46 rounds, and Masayoshi with more than double at 119 rounds. Then again, big advantage for Teo in fighting in his natural time zone whereas Masayoshi has to fly in from Japan in need of a serious time zone adjustment in his biorhythms while dealing with a seriously different culture and cuisine.
Insert Culture Shock here!
As it turns out, Masayoshi arrived to no fanfare weeks before the fight and not a peep afterwards about him or Teo, an odd development for such an up and coming young star. Nary a press conference in the mainstream media between the two, and Top Rank is Teo's promoter. They have to weigh in on Thursday which is today, so perhaps then we can see if they're in fighting trim.
I would think Teo would be highly favored by the bookies over Masayoshi, but the simple fact that is emblematic of boxing today is that both these fighters are largely untested to be ranked so highly because of a shallow talent pool in most divisions. I pray that they get the best officiating possible so the best man can win.