Anthony Joshua will confront his nightmare of Andy Ruiz Jr this Saturday, December 7th, only this time the venue is the wildcard of Diriyah Arena, Diriyah, Saudi Arabia for the first ever heavyweight title bout in Saudi history, and what a doozy it is with four titles on the line, WBA, IBF, WBO, and IBO.
The future Roman Emperor then military ingenue, Julius Caesar, famously sent word to his then superiors the results of his military campaign with these abruptly succinct words, "Veni, vidi, vici, ie I came, I saw, I conquered," seemingly words crafted by that Roman Colossus for the boxing world's American debut of Joshua after knocking over every fighter he faced, emptying the heavyweight stable of Al Haymon, and consolidating the scattered belts. Alas, modern day monkey wrenches were tossed into his sculptured works by the rolypoly rotundeth boy, Andy Ruiz, a favorite son of taco and hotdog venders everywhere, who vanquished our statuesque Caesar to make off with his spoils of war,  a sumptuous banquet of Joshua's hard earned belts.
So, our boxing Caesar, having been stung badly by his upset as the previous accolades flowing his way have been replaced by howls of derision by the lowbrows who have always existed in any society, why he has been training in hard diligence to right the wrong promulgated against him by his cheeky upstart. Fat Andy for his part has seems to have been training harder than at any point in his career, "possibly" scaling below 250lbs for the rematch. In short, the human interest dynamics and prime boxing motivation dynamics of the fighters are all lining up on the celestial charts in the ink black skies of Saudi Arabia for a potential all time great rematch and, fingers crossed, perhaps an all time great trilogy.
The importance of this seminal fight has not been lost by the boxing world either. Though perhaps being seen something of a schoolboy cornball attempt, The Ring recreated a 45 year old facsimile cover honoring our present day combatants by way of Muhammad Ali vs George Foreman from 45 years ago. While Andy appears in his approximate size dimensions, the half foot taller Joshua has been shrink wrapped to fit in the frame.  Also this fight is a much needed rematch whereas Ali skipped out of the lucrative rematch with Big George, so really, other than both fights were huge upsets fought in foreign lands, there are otherwise no parallels between them.
Africa is replaced by the adjoining Saudi Arabia, and the Don King inspired theme, "The Rumble In The Jungle" is not mentioned in the Foreman vs Ali edition, yet Ring has seen fit to add the rather vanilla "Clash on the Dunes" for Ruiz/Joshua II. I'd have chosen "Duke'm Out In The Desert," but then I don't get paid to make critical, hit or miss boxing marketing decisions.
In the first fight, Joshua was easily leading the cards in a rather tepid start by both fighters. Joshua was seemingly puzzled by the one off physical dimensions of Ruiz who sports a massive skull set and upper body hidden under all that lard with a cartoonish pant inseam equivalent to a 5-5 featherweight. Mighty Joe Parker also struggled against the Fat Andy dynamics of constant pressuring punctuated by fast handed combinations. Joshua smartly started slow so as to adjust to this never before seen mix of natural talent and physical attributes in a heavyweight title fight before the frenzy of 5 knockdowns exploded that started with Joshua's knockdown of Andy who had never tasted the canvas before.
When the smoke finally cleared, Joshua was left staring vacantly into his fuzzy new universe, propped against his own corner after his 4th knockdown as the ref righteously waved off the fight. The blubber of Andy slam dunked skyward in the sheer jubilation of suddenly seizing the biggest prize in all of boxing, the unified heavyweight title from the great champion as one of the biggest upsets in history.
No Way Jose had just come true!
The reactions of the boxing community over the "morbidly obese" first ever Mexican boxing champion(born and lives in the US side of the Mexican border with Mexican being his self identified Demographic) reminds me a bit of another boxing outsider, that of the clowning first "Jewish" heavyweight champion, Max Baer, who sent chills through the morally upright pillars of America in the 1930s when he won the heavyweight title. One stalwart member of the pulpit and the physical culture of the time opined(paraphrased,) "Here we have the disgrace of the new heavyweight champion of the world, and he trains on beer!"
Snickers Galore!
The unexpected manner in which the Colossus of Joshua suddenly imploded after putting Ruiz on the brink of knockout has generated all manner of hysteric theories as befits this vacuous twitter/facebook generation. My own initial take was first the contrast of fighter focus entering the ring. Ruiz made the gauntlet ring walk first through the eerily silent populace of security and fans with a terse, no nonsense stare to the ring of his destination. A roar greeted Joshua as security and fans engaged in hand and back slaps naturally wanting to be a piece of this Colossus history in the making as Joshua willingly engaged them in his natural "nice guy" demeanor for his American debut. He had everything other than this fight in his focus, and folks, no matter the training, a fighter without focus entering the ring, well, it's gonna be a long painful night as it turned out to be. Has any King of England ever traveled with such a platoonish largess of adoring servants?
https://pbs.twimg.com/media/D8CSvMIWwAAqw4_.jpg:large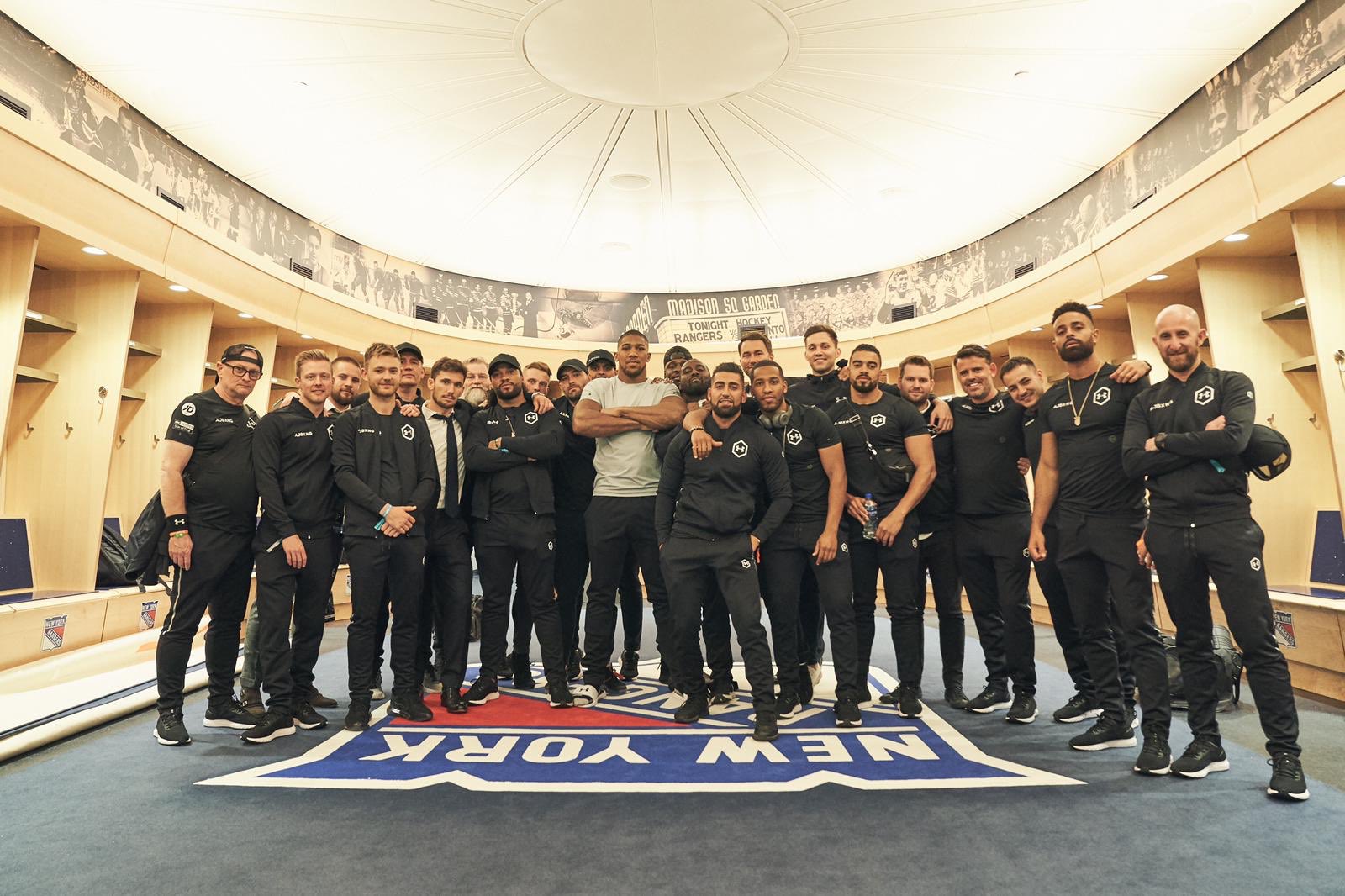 Then another controversy of sorts as Andy's sudden defection was revealed not by press release, but rather by the abrupt presence of Al Haymon's main man, Sam Watson, in the ring with Andy's team. From my perspective, that revelation put me on RED ALERT for monkey business since Andy had been promoted by Bob Arum from his pro inception. This boxing stealth move equivalent would be a national act of treason.
I'm not saying that any monkey business actually occurred in the ring, but Joshua seemed to be fighting underwater in slo-mo like in a dream. Not being his physician or trainer, I don't know the exact physical and mental reasons for that, but reliable sources before and after the fight maintain he'd been knocked out in sparring a couple of weeks before. Post fight Josh's father attacked his promoter Eddie Hearn in the dressing room furious that he had allowed this fight to happen after a grueling prefight scramble of fighters failing drug tests and refusing to fight for the $5 million short notice offer until Andy stepped in. In short, there was too much $$$ already on the line not to mention the prestige of Eddie and Joshua.
Ruiz for his part that night showed patience in carefully adjusting to this new Colossus armed with an Olympic Gold medal after just 2 yrs of Amateur boxing and the best professional knockout record in modern heavyweight title history after his 18 fights. That Andy managed to do so without significant change in his style to ring up boxing's greatest jackpot points to his previously ignored overall excellence as a fighter buried under vicious howls of derision that night by besotted Brits. Natch, he promptly went on a sorta celebrity tour of Mexico to be properly feted by la gente y politicos who unexpectedly found themselves with a new hero. I'm sure he returned from his impromptu tour well over 300 lbs and fully satiated with his accomplishments, after all, he made his pro debut only a Big Mac Meal Deal short of 300 lbs
Yet still the fallen former hero of the British people still lays in wait to glove it up again. The list of fallen heavyweight champions regaining the unified title in the immediate rematch is a short one. Floyd Patterson became the first vs Ingemar Johansson, and then Lennox Lewis vs Hasim Rahman stands out, but perhaps not even that one given Lewis had already sold his WBA belt to Don King. The racketeering ignominy of that move and later selling his IBF to King can never be forgiven. Lewis finally had to retire days before the WBC was due to strip him of his last belt, a sad end indeed.
As mentioned previously, the mental state of a fighter is perhaps the most important part of any fight, and Josh it appears had a ton of distractions, not the least was his opponent falling out with no replacements to be found until Andy finally stepped up to the scratch line to save the fight and his touted American debut. Now, perhaps disturbingly due the massive fallout over his loss, Josh has been genuflecting in the shadow of his former greatness with some very strange comments. While his focus and determination must be there since he immediately tapped his rematch clause, it's natural to think his confidence has been cracked with such bizarre talk.
The Venue!
A 2 month blitzkrieg of a purpose built, 15,000 capacity stadium erected on the outskirts of town that will last for several years as a venue if Saudi based sporting events continue to grow. What is not mentioned in all this fight leadup is that months ago Iran knocked out half the Saudi oil production with some well placed missiles, an act of war for most countries save that the Iranian's deny it. Nobody wants to stomach yet another war in the middle east when Iraq, Afghanistan, Yemen, Libya, and Syria are still smoldering in the ashes of their lost paradises, so what are the Iranians thinking about this splash heavyweight debut in the Saudi desert?
Would they?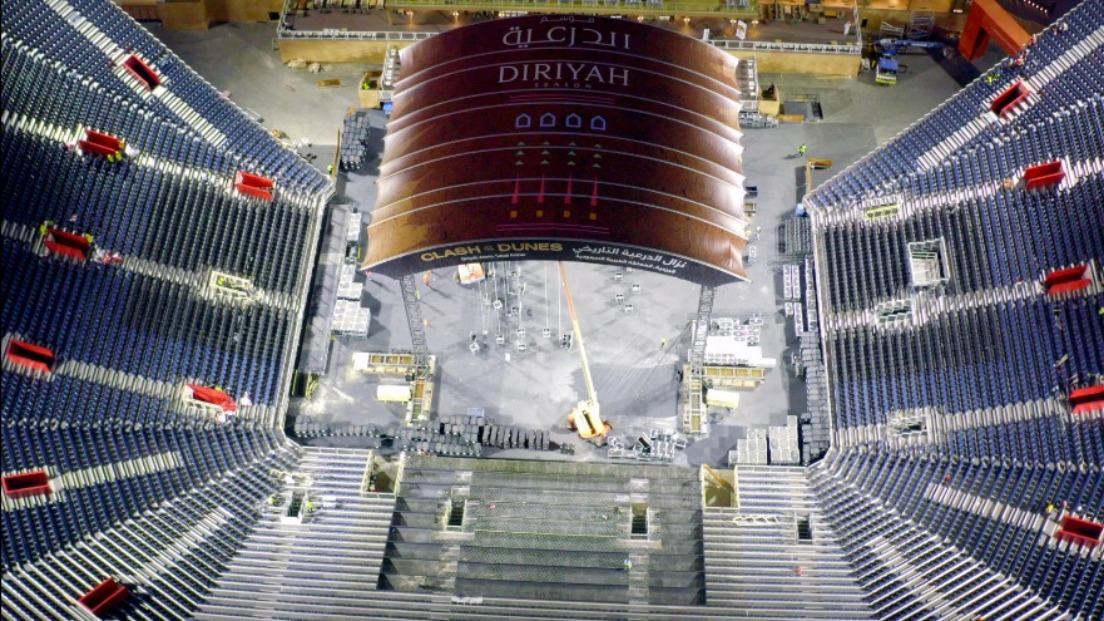 I sure would be nervous and I expect both fighters and camps to be doubly nervous over this rematch given the HUGE STAKE$ for the fight. A loss by either knocks the loser out of tens of millions of future dollars, but if we the boxing community are lucky, we may well see an epic Valhalla quality trifecta in the future to date one of the all time great series in boxing history in our era.
If a man's reach cannot extend beyond his grasp, then what's a Valhalla for?