A Sad Valentine To The Ring Magazine:
Here is a beating in love, the 98 year old Jack Dempsey first ever Ring Magazine Belt awarded for a championship held, in this case the heavyweight title in 1922. The 2nd ever Ring belt was issued to flyweight Pancho Villa in 1923 for two of the all time iconic names most every boxing aficionado knows.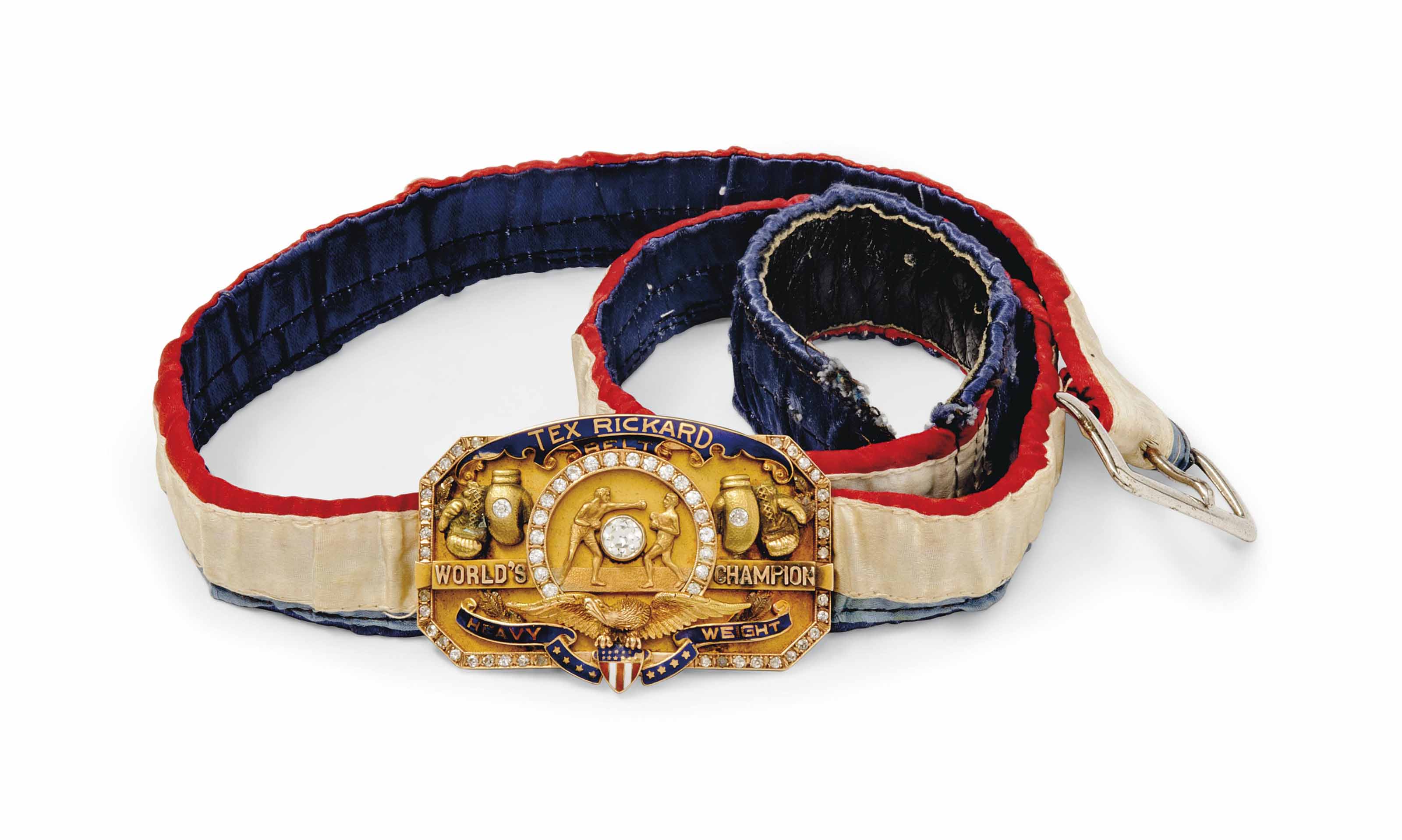 Championship belts, of course, long preceded Ring's belt, but nonetheless Ring has been instrumental in continuing a long tradition of recognition with a Ring Belt in a series of storied eras and fighters, primarily American, but more importantly, with an iconic name, The Ring. And notice the name atop the buckle of Dempsey's belt, that being his promoter,  Tex Rickard, who took charge of the first ever Ring rankings for youngish  Nat Fleischer due to Tex's formidable history of promoting great boxing events as well as financing The Ring and Nat's very Creation. Jack Dempsey may have been the irrevocable champion, but Tex's first #1 was none other than Harry Wills, so while the animas of the racial politics of that era could never settle enough for them to fight, they signed at least twice to fight but could not raise the monies needed for such a huge fight nor the venue. Nonetheless, Tex nailed the first ever ratings to be sure. 
The varied participants tried their best in a volatile political  era spanning World War I that saw Dempsey savaged by the press as a draft dodger and charged by the government despite having a legit draft deferment as the sole support of his family. Like Ali 50 years later, Dempsey prevailed in the courts, yet he could not prevent nefarious third civil parties(Jack "Doc" Kearns) from seizing assets in his name for those post Kearns years.
And here is The Gypsy King's Ring Belt awarded after dethroning the great, longtime record setting champion, Wladimir Klitschko, that is considerably more showy and ruffled as befits this doodaddy bling era even as the participants a bit dumpy.
Unfortunately for those of us possessing at least a modicum of decorum in the historical tradition, mine eyes and ears do not deceive me when Ring "Editor in Chief," Dougie Fischer, announced the Ring Belt will be up for grabs in the belabored Tyson Fury/Deontay Wilder rematch this February 22nd.
Feb 3-Dougie Fischer, Ring Magazine's Editor in Chief
On to Wilder-Fury 2, it pits The Ring's No. 1-rated heavyweight (Tyson Fury) vs. No. 2 (Wilder), so the near-100-year-old boxing publication's heavyweight championship belt (which dates back to Jack Dempsey) will be on the line. The first bout was a draw, so they remain unbeaten but with something to prove in the rematch. February 22 is as good as boxing gets and I can't wait to take in the atmosphere in Las Vegas.
Yupsir, feted, wined, dined and fattened in Vegas at MGM Floyd stockyard alongside the rest of the grazing herd.
The Ring has sunk to their level by ignoring that Fury never once defended his first Ring Belt, in fact shamelessly ducking out on the signed Wlad rematch that would would have altered the current heavyweight landscape no matter who won. Also keep in mind that Fury "allegedly" had a positive drug test for steroids before the Wlad fight covered up and then botched by the shameless machinations of UKAD and the BBB of C, the two biggest, ahem, "boxing authorities" in the United Kingdom concerning these matters.
The only other belt then and now up for grabs was the long discredited Al Haymon massaged Wilder TBA(To Be Announced) WBC belt.
Meanwhile, the legit Four Belt(WBA/WBO/IBF/IBO) Champion, Anthony Joshua, who has dominated ever since his spectacular ascension into the #1 in Boxrec rankings for quite sometime as well as #1 in Ring save for his brief banana peel with Andy Ruiz Jr that he avenged. He continues to extend a relatively recent tradition started by the Klitschko brothers of emasculating American heavyweights, their fans, and their media by his deeds in the ring.
We The People who know better absolutely know both Ring's two pretentious yahoos have turned down multiple substantial offers from Joshua's promoter, Eddie Hearn, but not the then Ring #3, the undefeated Mighty Joseph Parker who put up as good a fight as could be had in front of 80,000+ screaming Brits @Wembley against Joshua that by all rights should've been for the Ring Belt.
***** Gonna quote Ring's own rules regarding that situation for absolute clarity:
RATING PANEL / CHAMPIONSHIP POLICY
Championship vacancies can be filled in the following two ways:
THE RING's Nos. 1 and 2 contenders fight one another.
If the Nos. 1 and 2 contenders chose not to fight one another and either of them fights No. 3, No. 4 or No. 5, the winner may be awarded THE RING belt if the Editorial Board deems the contenders worthy.
Here are the seven situations in which a champion can lose his belt:
The Champion loses a fight in the weight class in which he is champion.
The Champion moves to another weight class (for more than one fight).
The Champion does not schedule a fight in any weight class for 18 months.
The Champion does not schedule a fight at his championship weight for 18 months (even if he fights at another weight).
The Champion does not schedule a fight with a Top-5 contender from any weight class for two years.
The Champion retires.
The Champion tests positive for a performance-enhancing substance and is fined, suspended or otherwise penalized by the proper authority (athletic commission or sanctioning body).
RATINGS POLICY
Results. This is the most objective criterion and takes precedence over all others.
Performance. How a fighter performs in a victory or defeat can be a factor to determine his place in the ratings.
Track record: A fighter's accomplishments in the recent past can be a factor to determine his place in the ratings. That includes quality of opposition.
THE RING Ratings are compiled by the magazine's Editorial Board, with the participation of THE RING Ratings Panel of boxing journalists from around the world.
So, the half dozen or so of the of Ring ratings herd will be handing over their freshly tarnished Ring belt for a fight that has about as much gravitas as a fantasy fight between an 1865 Honest Abe Lincoln and 2020 Ronald MacDonald Trump.
When Joshua made his American debut last year against a highly ranked American, Jarrell Big Baby Miller, he was left in a one helluva a pickle when Babyboy massively failed the drug testing after having accused Joshua of being a PED user. Shameless American ignominy was then compounded when American based contenders Luis Ortiz and Adam Kownacki both turned down the substantial offer to fill the vacancy, the reason being Wilder with his TBA/WBC belt was seen as the easiest low hanging fruit to pick from compared to the invincible Colossus of Joshua. And worse, Wilder himself turned down a sumptuous 3 fight, $100 million deal by Hearn would've started with the Joshua fight. Consider that Wilder has yet to even clear $100 million in his misbegotten career.
By the end of this sordid American debut for Joshua that saw Americans keeling over like fainting goats, it fell upon Fat Andy to salvage American heavyweight masculinity that resulted in a concussive upset for the ages of this still newly minted millennium. To painfully compound wounded American pride even further, Fat Andy self identifies as Mexican even if speaking perfect English and being born in America, the reason being he was born 40 miles north of the US/Mexican border where Mexican and American culture have been seamlessly forged together such that he proudly represented Mexico in the Olympics.
Regrettably, to further pile on the shameless self emasculation of Ring, Fat Andy was never awarded the #1 Ranking for salvaging their American masculinity no matter how brief his reign before Joshua carefully outpointed him in the historic Saudi Arabian rematch. So Joshua continues to set records and make unique heavyweight history with his fights while the other two chumpsters will supposedly be fighting at the infamous "MGM Floyd" if they can "pass" the drug screening.
Mind you, this is no minor disagreement over the finer ratings of wine, chocolates, or a beauty contest, but rather a major departure in boxing publication integrity by The Ring.
What would Tex do? What would Nat do? Truth has become more laughable at The Ring than comedy these days…only in boxing, folks…