The mercurial Irish rogue, Tyson Fury goes against Tom Schwarz this Saturday, June 15th @MGM Grand, Grand Garden Arena, Las Vegas.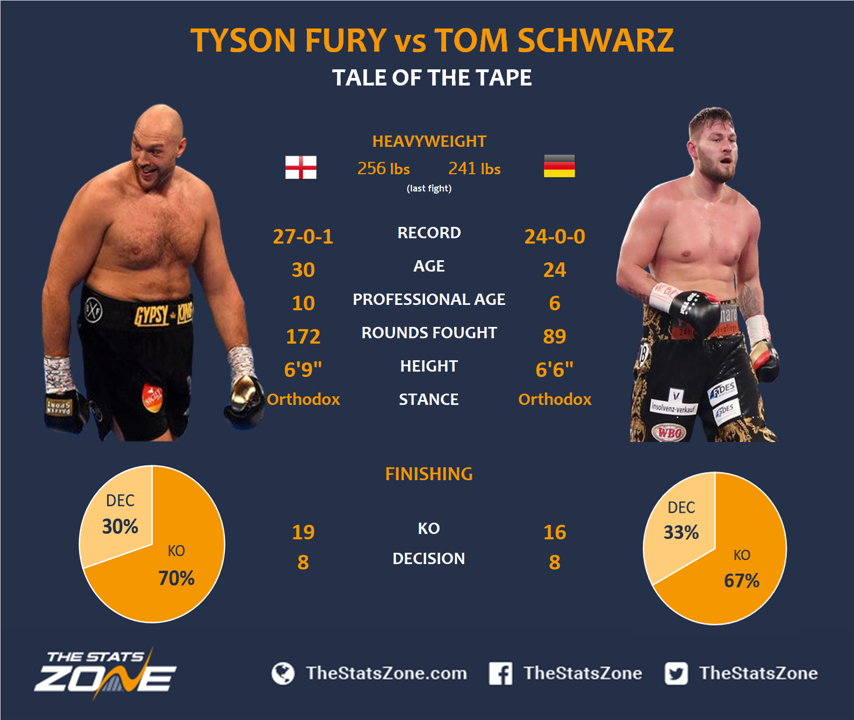 Schwartz is a fringe level Euro contender out of Germany who's fought a grocery list of "Who's Thats," yet only just turned 25. He's unproven and undefeated, so that makes him an unknown dangerous quantity. One never knows just how hungry he might be and what untapped genius that may be pulled out of nowhere for the first time in the middle of a tough fight.
Fury in this Wilder interim seems to have had a major "Fancy Dan" style makeover. No shirt, no shoes, and, most probably no underwear. Those little squares are classic boxing photos, perhaps a couple of thousand in a one off suit. Compare the long and lanky Fury to the blocky, thickly built Schwarz. And no, I don't know the significance of the eye candy staged between them, but she's got that smirking satisfied "look" to her.
The Stats Zone Tale of the Tape more than a little bit off on Fury's boxing stance. Fury has fought strictly lefty in a few bouts and has been generously switching seamlessly from righty to lefty and back and forth for a few years now. Not sure if that is a real advantage for him other than it seems to suit his nature which is a good thing for a boxer to feel in the ring, maybe like Ali and his Ali shuffle. Fury is still fresh off an epic fight with Deontay Wilder in California where he was widely leading on all the cards before getting careless that resulted in Wilder dropping him twice, definitely a thriller as Tyson made a big impression on Americans even if the final result was a draw.
Schwartz is also a big, strong fella, so if he can fight some and has a punch, well, "It Happens." Meanwhile here's Tyson is looking like that snappy choirboy in Church choir, apparently the soloist singing in the "gravel" range with more tiny squares of classic boxing photos embedded in his suit. I'd guess he loves boxing.
Also noteworthy is that this will be Fury's first fight with Bob Arum's Top Rank in a reputed multi-fight deal. And apparently Fury's old promoter, Frank Warren, will be a co-promoter as he has been part of the team in every press conference. Sonny Conto as part of Arum's newly acquired heavyweight stable made his splashy debut early in 2019 also says he will be fighting on the undercard and has been a training partner for Fury in the lead up to this fight.
May The Schwarz Be With You!