Andy Ruiz Jr steps up for a big fight for the vacant WBO title against Joseph Parker @ Vector Arena, Auckland this Saturday, December 10th.
Though this pairing of a fat Mexican against a packed Kiwi down under in New Zealand seems unlikely because of ample Ruiz girth that we rather enjoy our mirth with, this fatboy knows how to fight. He's very much like Tony Tubbs, Buster Mathis, Tony Galento and Willie Meehan before him, but can he match the girth of achievements of Big George?
We'll find out after a really bad bummer year for boxing. Both have been very active, so this early December Christmas present for we the fans will be the 4th fight for each this year. When the fight was announced, Parker immediately went public with a painful recollection of the first sparring encounter between the two that left him with a huge cut in his mouth that kept him from eating for a few days. That, of course, was then, with this being now and both more experienced. Parker has faced better opponents the past couple of years whereas Ruiz slacked off in 2015, perhaps due to personal problems. His weight this year has been between 248-253 lbs which is a good range for him considering his past fluctuations, but supposedly he's targeting 245 lbs for this fight.
As a regrettable side note, Anthony Joshua defends his IBF heavy title against journeyman Eric Molina on the same date in Manchester, but the good news seems to be that finally all the wheels got greased to put both Josh's IBF belt and a WBA Super belt tossed in for added incentive against Wladimir Klitschko in spring of 2017 in an expected sellout of Wembley, the current capacity of 80,000+. Not to worry for fans though since there are over 2000 toilets to choose from.
Here these dynamic former spar mates are in Las Vegas after attending the Pacquiao/Vargas bout. The size differential is deceptive because Parker as the bigger is out front when in fact Ruiz will come in 10 lbs + heavier: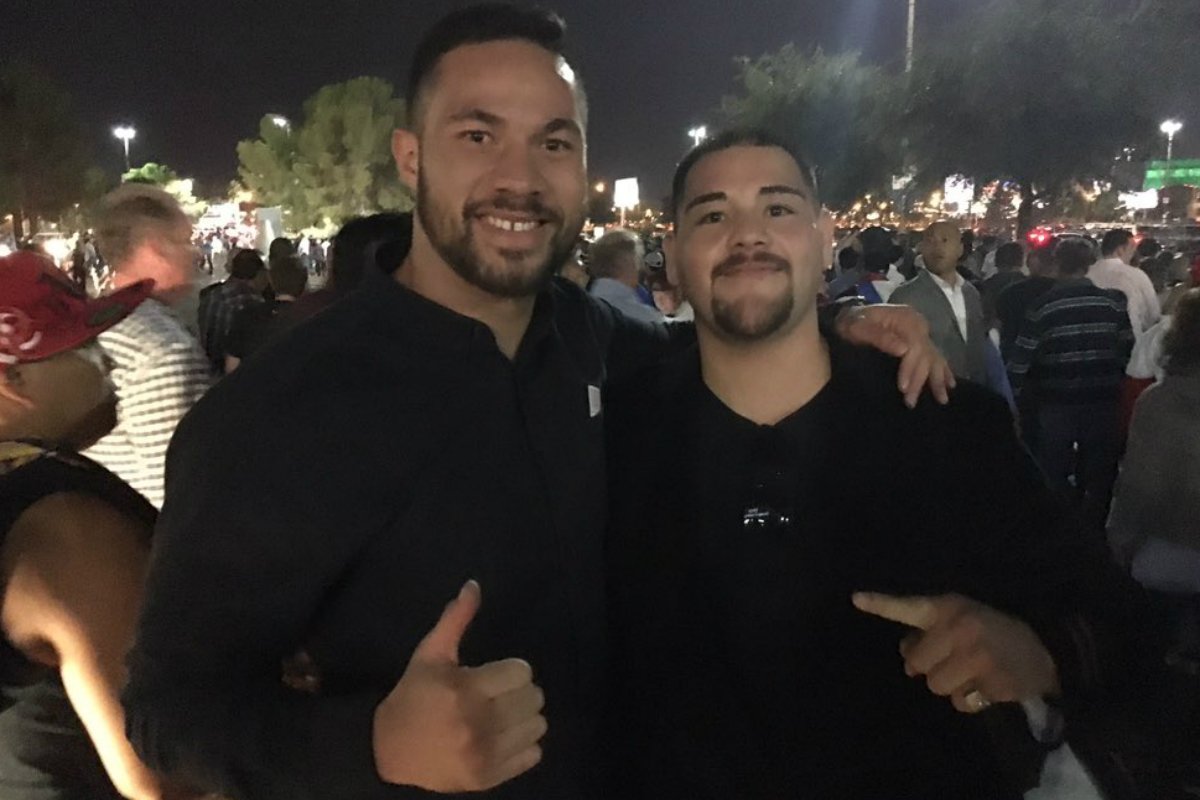 Samoan Prime Minister Tuilepa Alono Sailele Mallelegaol is said  to have been the primary financier for the fight so it could be held in New Zealand. To wit: "We are proud to be able to support our son Joseph Parker in his quest to become the first Samoan world heavyweight champion, and believe he possesses the qualities required to succeed, strength of body, mind and soul. In addition to this, this event will be a great opportunity for Samoa to promote our beautiful country to what will be a massive international audience."
An additional wrinkle to this fight is Bob Arum has obtained 50% of Parker and other Duco Event fighter contracts, so will be co promoting him and them for the immediate future including this fight. Top Rank, win, lose, or draw, are back in the heavyweight champion biz again.
I really like the pace and skills of Parker, so of course I think he wins, but I also think Ruiz may possess hereto untapped potential waiting to be released, like maybe for this fight? Regardless of the results, the die is cast. Either the first ever Samoan or Mexican will become a world champ, unless……unless there is a draw or other such monkey business that boxing too often brings to fight results, yet still…only in boxing!