Grab all your family jewels for safekeeping on November 2nd this Saturday when Saul "Canelo" Alvarez jumps yet another division for the glory of taking on the Boxrec #1 Lightheavy in the world, the fearsome Krusher, Sergey Kovalev @MGM Grande, Las Vegas. This is part of the DAZN extravaganzas for the close of the year.
Hard to know who is the more hated panto villain in modern boxing fandom, Canelo or the Krusher. This becomes a sort of a "Quiet" Odd Couple pairing where Kovelev will sport a half foot of height and reach over Canelo, and face it, two more ethnically and stylistic disparate fighters could not have been picked for such a big fight. Their only similarities are both are fighters and quietly soft spoken outside the ring to let their fists do their talking inside the ring.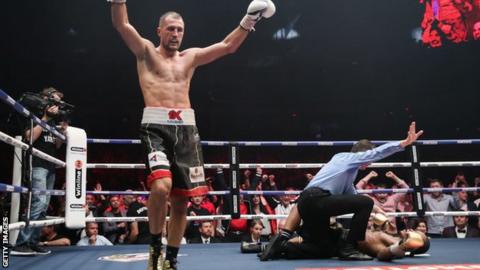 Finally, the much maligned Kovalev gets a payday commensurate with his contributions to the sport of boxing as Canelo gets another challenge to further enrage his growing legion of critics who simply cannot seem to stew enough in the bile of their self created hatreds.
And to be sure, Krusher is certainly no schoolboy here after being charged and perhaps ultimately sentenced to a US penitentiary for the crime of allegedly, ie horribly beating up a woman who spurned his sexual advances if no out of court settlement is forthcoming to compensate the victim for her injuries. And then the specter of Canelo in his slick, silk finery rubbing the noses of his critics in his myriad of championship belts begets an arrogance born of the excellence of his teenaged craftsmanship that has carried him to this point in time, a veritable Hater's paradise!
VADA Drug Testing Trivia: Canelo #348759~~Kovalev #505927
By natural attributes and size, the fight reminds me a bit of IBHOFers Bob Foster vs Dick Tiger in 1968. The carefully crafted Tiger was around Canelo's size, and Knockout artist Foster a bit taller than Kovalev at 6-3, but Tiger was the older Lightheavy champ with an excellent chin, and Foster the 9 years younger contender having been knocking over Lightheavies like bowling pins. In this fight, the shorter Canelo is the 7 year younger fighter, yet with more than double the pro rounds against the WBO beltholder Kovalev who is still on top of his game with an additional #2 Ring rating to supplement his Boxrec #1.
Foster ended up knocking out Tiger rather easily, but Tiger turned out to be not only on his last legs of his boxing career, but on his last legs here on earth with his departure a 3 years years later via liver cancer, as sick as a man can be. Me thinks this fight may well go the distance. Kovalev is an excellent long distance fighter fully capable of utilizing his height, reach, and jab advantage at his range, so the impetus will be on Canelo to figure out how to slip his punches to get inside that range for his shorter, more compact punches, because otherwise, he will just be target practice for Kovalev.
Nothing about this Mutt and Jeff fight will be easy for either because of the overall excellence of the fighters, but perhaps the wild card in play will be can Canelo get Krusher to respect his power? Canelo easily dismantled the towering Rocky Fielding for a minor 168 WBA title, and though Rocky still highly rated on Boxrec at #5, in no way can he compare to the legacy of what Kovalev brings to the table still at the top of his game no matter the frothing thrash of his bibby bedecked babbling critics.
Another harsh criticism of this fight making the antisocial media rounds is Krusher is having to fight too soon after a hard, damaging fight against Anthony Yarde, so let's deconstruct that myth:
1. Other than a few minor contusions as in any fight, Kovalev suffered no injuries in a fight he was in command of for the 11 rounds it lasted. It was a good mental and physical workout against a strong, new young gun. There is also a 70 day gap between the Canelo fight that translates to 10 weeks worth of time.
2. Now, allowing that Kovalev was already in prime condition two weeks before the Yarde fight, and immediately afterward, but allowing 2-3 weeks judicious rest and relaxation in advance of the biggest fight of his life, that leaves him 7-8 weeks to train for Canelo, meaning that barring any training injuries, Kovalev may well end up in the best shape of his life. Allowing 4-5 weeks rest and relaxation, that would leave 5-6 weeks training, a standard minimum training time needed for most fighters not having to lose excessive weight or get into physical shape, a scenario not in play here. All Krusher needs is light exercise designed to maintain his already fine condition and specific strategy based sparring to work out his fight plans.
Has there ever been any"true" fighter who ever existed to turn down such a lucrative opportunity as this? 
I can only think of a few, but more importantly as pertains to this fight, certainly not this battle tested Russian who has completely upended the light heavy division ever since he was an up and coming unranked fighter. Unbelievably I'm hearing Canelo is a 4-1 favorite, meaning you reap 25 cents on every dollar bet for Canelo if he wins, yet earn $4 for every dollar you bet for Kovalev if he wins!
Myself never being the betting sort relying on such a shaky proposition as boxing officiating, it becomes beyond my comprehension as such odds in such an unknown type of fight can be determined, yet such were floated 6 days from the fight date!
I would think Kovelev holds most of the cards against a novice debutante to the Lightheavy division no matter the difficulties of parsing the unusual physical and style match ups, but if push comes to shove, well, then, I'm picking "The Good Fight, May The Best Man Win," so that's my choice and I'm sticking to it!