Dateline: February 22nd, 2020 @MGM Floyd is where the Clash of the Titans Sequel premieres as Tyson Fury does the remake with his new panto nemesis in crime, Deontay Wilder, after a trash riddled month of posing, posturing, and preening their inner idiot.
The Prequel was a somewhat nondescript fight proposal 9 years ago when they should have fought as highly touted prospects, but didn't for the usual reasons endemic to boxing. Fury was already far ahead in development though, an excellent reason for the minders of  Wilder to stay far, far away from that fight.
https://roberto00.wordpress.com/2011/02/19/reality-%e2%80%98what-if%e2%80%99-fantasy-tyson-fury-vs-deontay-wilder-2/
This was my leadup to the main event just over a year ago, regrettably a few years past when they should've fought:
https://roberto00.wordpress.com/2018/12/01/the-tyson-fury-vs-deontay-wilder-french-farce-in-lalaland/
That "wake me up when they're done" battle saw Fury jukin' 'n jivin' Wilder who replicated an uncoordinated park statue when not thrashing haymakers. Then the 9th and 12th round explosions by Wilder woke up everyone with the 12th seemingly one of the most fatal knockout explosions I've ever witnessed, a rare, freestyle combination by Wilder.
What happened next is a subject worthy of boxing legend and myth when Fury slammed the canvas flat on his back seemingly out for the ages beyond this one to immediately open his eyes for a wink at the ref, a signal by Boxing's clown prince that he was was alive and having a world of fun.
No doubt the skeptical ref Jack Reiss gave him an extra 10 seconds once over after he barely beat the 10 count as is common practice in these modern health of the fighter days, especially in the Staples Center, Cornflakia, but still, who ever expected Fury to continue to take the fight to Wilder between their mutual clinching?
That was then and this is now. Fury has been clowning around with 2 undefeated fringe contenders. See his bloody last fight:
Sandwiched in between the 2 sanctioned boxing fights, Fury had a meaty, dangerous stint of WWE against a 6-8, 370 lb mountain of muscle name of Braun Strowman who put some truly serious hurt on Fury with a vicious body slam before succumbing to the orchestration.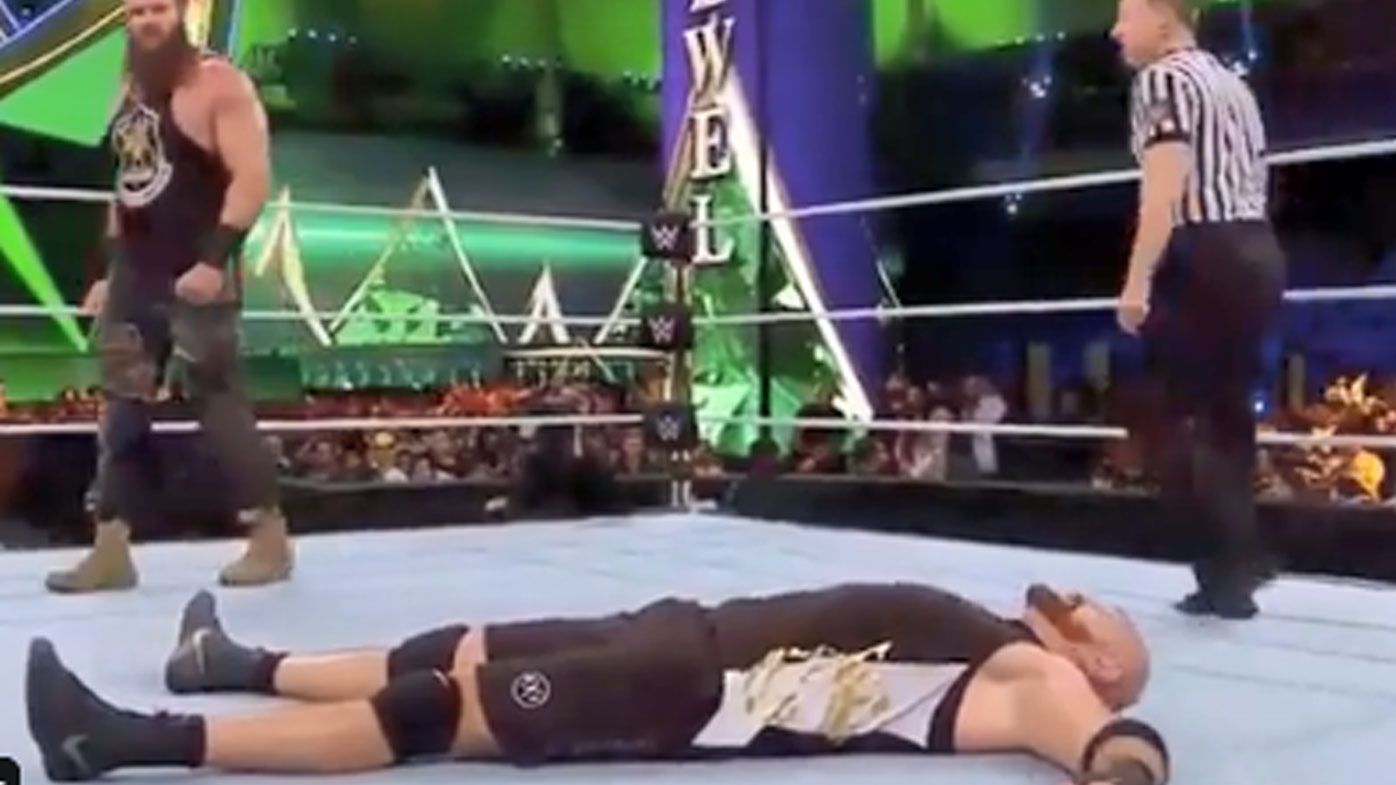 Wilder during that interim rematched with a geriatric heavyweight on blood pressure medication that he had already knocked out. Wilder got knocked around some more before knocking him out yet again, and then dispatched a fringe Uncle Al contender, so each still remain something of an unknown going into their "Not Ready For Primetime" sequel.
"The Story" of this fight is that the Candies at Ring Magazine have made their once coveted Ring Belt available to the winner. Fury already owns one Ring belt after his victory over Wladimir Klitschko, yet he immediately forfeited that title that he never defended during his mental meltdown while consuming mountains cocaine and cuisine to blow up to 400+ lbs.
Since those dark days, Fury has dropped 150 lbs, just enough to skeeter around the ring as weak as a kitten to clown his weaker opposition. He is nowhere near his peak when he dethroned Wlad, and likely won't ever be again. No matter who wins, the winner will be heavily flattered regarding his capability. Especially by The Ring who has apparently dipped deep into the tin "Cracker Jacks" trinket business.
Disclaimer: I used to be very impressed with Fury the boxer and iconic comic very much like a young Ali, undefeated and always clowning around in and out of the ring and otherwise having a great time. Never been impressed with anything about Wilder save his Knockout quality right hand and his ability to absorb beatings to land it.
Ring poll of experts favored Wilder by a 12-8 margin, but recent betting odds support my 50/50 split, ie Wilder is a -110 favorite (risk $110 to win $100), while Fury is priced at -106.
Wait, wait, don't tell Us, the unwashed public, that the trilogy is already a signed and done deal. And "You know who" lubricated the Vegas Commish that yielded the  Kenny Bayless as ref to ride Fury bareback and Dave Moretti to cover the scoring. Oh, and Fury's near nonagenarian promoter, Uncle Bob Arum, announced he's taking in all silly $$$ bids to sell the massive Top Rank assets lock, stock, and barrel that include the world's largest collections of fights stored in a massive underground Vegas bunker next to Al Haymon's personal bunker.
Our intrepid Gypsy King loves to remind us that "No Man born of his Mother" can beat him, but a gaggle of men in monkey business suits born of their mothers may well turn the trick…(Insert Yawn)…only in boxing folks!